Offline Practice Management
BEST OFFLINE PRACTICE MANAGEMENT SOFTWARE IN INDIA
If you want to store the Records and Patient details in your premise itself or when you face Network/Internet connectivity issues then PappyJoe Offline Practice Management Software is ideal for you. PappyJoe Software allows Multiple Doctors/Users/Computers in a single premise by making one of your Computer as Server and the others Computers as Client Computers.
PappyJoe integrates SMS and email functionalities to improve the quality of patient care. Electronic medical record (EMR Systems) helps you to maintain patient records efficiently.
Simple Appointment Fixing
Simplified Design to make appointments fast; in simple steps.
Keep your schedule organized and simple.
Option to display daily, weekly and monthly appointments.
Reschedule appointment timings easily; with a simple drag.
Send SMS regarding appointments and schedule changes to patients.
Option to maintain separate calendars for individual doctors.
Efficient EHR
Improve medical practice management by increasing efficiency and save time.
Create, maintain and retrieve patient's details like complaints, observations, investigations, diagnoses and clinical notes.
Record Treatments and Prescriptions; provision for taking print outs.
Generate Invoices and record receipts.
Upload photographs, X-rays and other files that make easy comparison of the progress of treatment.
Easy Billing
Fast and straightforward Billing/ Invoicing.
Pre-set price list and just click on items to select it.
Raise bills of Treatments, Prescriptions and items issues in simple steps.
Email bills and reminders to track due payments.
Enter advance and partial payments.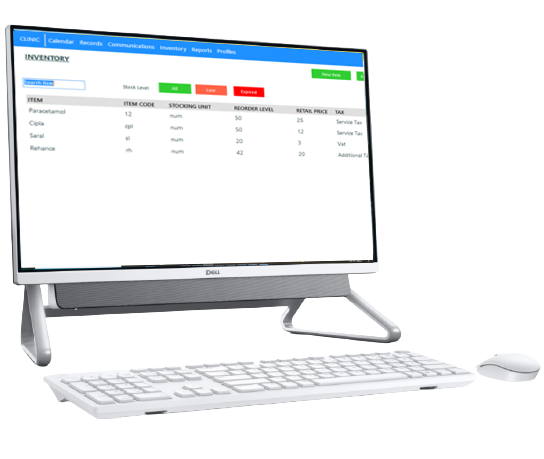 Robust Inventory Management
Helps you visualize complete details of inventory such as Reorder level, Expiry date, and Total quantity of a product etc.
Manage in-house prescription dispensing and also inventory of in-house medications and other healthcare supplies.
Comprehensive Reports
Want to know what treatments you've given to your patients and how much you've charged them!.
Ask and you'll get it.
Examine, review, analyze, and summarize reports on Appointments, Income, payments Expenses etc., on a daily periodic basis.
360 degree analysis possible through reports.
Enhance productivity through continuous monitoring of reports.
MOBILE APP
If you are using a Smart phone we've a smart application for you. Just download PappyJoe app and you have access to your clinic software.

Add patients and book appointments through the mobile.

Easy synchronization features.
CONNECT WITH PATIENTS
Generate more referrals by keeping a healthy relationship with your patients through e-mails and SMS.

Know your clients better and deepen your relationships and see how they will help you grow.
SECURITY
Define users and set privileges for each user. Different types of access rights may be given to every User Role.

Can deny a user certain privileges as per his designation/responsibilities.
Need to Know More..? Call Us Now +91-9496499891